---
Blackmagic Fiber Converter
Extend and fully power cameras up to 2 kmaway using an open standard SMPTE fiber cable!
The Blackmagic Camera Fiber Converter and Blackmagic Studio Fiber Converter convert standard television industry connections for video, audio, power, talkback, and tally into a single SMPTE fiber optic cable. This allows cameras to be placed up to 2 km away from a studio or outside broadcast truck using a single convenient and incredibly durable cable. The Blackmagic Camera Fiber Converter also adds familiar broadcast studio camera controls to the rear of the camera, plus additional connections so you can use it with the talkback systems and switchers you already have. The Blackmagic fiber converters feature 12G-SDI and are designed to work with all HD and Ultra HD formats up to 2160p60. Now you can transform professional cameras such as URSA Broadcast and URSA Mini into a complete professional studio camera with all of the features you need for high end work!
Place Cameras Anywhere
Get cameras much closer to the action!
If you're working in a studio or out at a large sporting venue, you often need to place cameras far apart. While SDI connections are common, the limited range of SDI makes it hard to use it over long distances. Traditionally, you would need to run multiple cables and expensive extenders for power, talkback, tally, video and audio. This makes set up incredibly complex and increases the chances of a technical problem. Now you can solve this problem by converting all essential connections and power into a single convenient SMPTE fiber cable that can run incredibly long distances. That means cameras can be placed anywhere and connected back to broadcast trucks parked outside of a venue or back to a central control room in a studio. Best of all, SMPTE fiber is a global broadcast industry standard so you can use cables and connection points that are commonly available. Blackmagic fiber converters are also affordable, so traditional broadcasters, new web broadcasters, AV producers, houses of worship and educators can all use the same high end broadcast technology!
SMPTE Fiber forIndustrial Strength and Safety
Built in multi layer fail safe instantlycuts power to eliminate danger
Blackmagic fiber converters work with standard SMPTE 311M hybrid electrical and fiber optic cables with standard SMPTE 304 connectors on each end. These cables feature a 2 way fiber pair, data pair and power pair, along with a central strength member that gives it the needed durability for continuous use. Once plugged in, the Blackmagic Studio Fiber Converter automatically performs safety checks and then powers up, sending an industry standard 200 volts of power over the SMPTE cable for the camera and accessories. This means you can install cameras in remote locations without having to worry about power drops over long distances. Both the studio and camera converters at each end have dedicated micro controllers that continuously monitor power status. The converters communicate with each other to ensure that both a stable optical signal is present and that the power supply is operating within safe parameters. If a damaged cable or an earth leak is detected, the power is instantly shut down to eliminate any danger to personnel.
Add Studio Camera Controls
Transform broadcast camerasinto dedicated studio cameras!
Studio cameras are typically operated from the rear of the camera, but broadcast cameras usually have controls on the side of the camera. To solve this problem, the Blackmagic Camera Fiber Converter adds support for SMPTE fiber to your camera along with a wide range of controls and features to the rear of the camera, transforming it into a professional studio camera. You get 2 separate broadcast standard 5 pin talkback connections, 3 return video feeds, 2 extra audio inputs, connections for PTZ and trackers, plus additional DC and D-tap outputs for powering accessories. With all these extra controls added to the rear of the camera, you can operate the camera in the same way as traditional studio cameras!
10G Ethernet for IP Video
Super fast, low latency ethernetlink for video, audio and control!
The Blackmagic Camera Fiber Converter and the Blackmagic Studio Fiber Converter use IP video because the SMPTE fiber connection is an open standard 10G Ethernet link. That means all of your video and return feeds are IP video based using high end, lossless broadcast quality 10-bit video encoding and decoding. All other connections such as talkback, tally, camera control and lens control are also converted to low latency IP so you get incredibly reliable performance and high quality. Using IP video means the Blackmagic fiber converters are future proof and ready for customization using high speed Ethernet infrastructure in future!
Blackmagic CameraFiber Converter
The Blackmagic Camera Fiber Converter attaches to the back of your URSA Mini or URSA Broadcast camera. In addition to converting all of the audio, video, camera control and talkback into fiber, it also adds professional studio camera controls to the back of your camera. You get control for return feeds, dual intercom controls with the ability to mix in program audio, record, focus and iris controls, headset connectors, audio and more. The camera converter also includes a VLock mount plate on the top for attaching accessories such as a professional Blackmagic Studio Viewfinder. The Blackmagic Camera Fiber Converter has connections for your Ultra HD camera feed, 3 HD return feeds, full remote camera control, PTZ, multiple channels of talkback, tally and more!
Blackmagic Camera Fiber Converter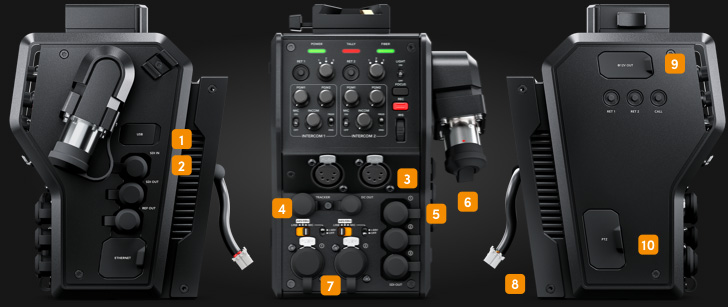 USB-C ConnectorThe USB-C port allows you to update internal software.
12G-SDI In/OutConnect the 12G SDI Out from your camera into the 12G SDI In on the Camera Fiber Converter or 12G SDI Out of the converter into the 12G SDI In on the camera.
HeadsetsTwo female 5 pin XLR connectors allow you to plug in two headsets.
Tracker10 pin hirose connector, which sendsout an additional intercom output and red and green tally output.
SDI OutThree SDI outputs allow you to output thethree return feeds coming from the switcherto other equipment via 3G SDI.
SMPTE Hybrid Fiber Optic ConnectorUse the Blackmagic Camera Fiber Converter's male connector to plug in the female end of a SMPTE Fiber cable.
XLR Audio InputsPlug in external analog audio from professional equipment such as microphones and audio mixers.
Molex ConnetorPlug the molex connector into the molex socket to power your camera from the converter.
D Tap Connector+12V Out to power accessories like an external monitor, up to +11.9V to 14V DC at 2 amps.
PTZThe 9 pin PTZ connector allows you to connect to a PTZ motorized head.
Designed forHigh End Broadcast
Durable metal design,high end componentsand professional connections
The Blackmagic Camera Fiber Converter features an extremely durable all metal design that perfectly matches URSA Broadcast, URSA Mini cameras or any camera that supports a standard battery plate. It's built to withstand the harsh demands of outdoor field production and 24/7 operation. The Blackmagic Camera Fiber Converter features full size standard television industry connections with dust caps, along with an integrated VLock mount plate on top for adding a studio viewfinder. The Blackmagic Studio Fiber Converter is designed so that you can fit two of them side by side in a standard equipment rack using the optional rack mount kit. The optical fiber connector on the Blackmagic Studio Fiber Converter is conveniently located on the front panel, right next to the built in 5 inch LCD, so you can plug remote cameras in and instantly see the feed!
Connections
Optical Fiber Input
1x SMPTE Hybrid Fiber Optic
with SMPTE 304 connector (Male).
SDI Video Input
1x 12G SDI for Camera feed.
SDI Video Output
1x 3G SDI for Camera return
feed, 3x 3G SDI for Return SDI Outputs.
Talkback Audio
2x 5-pin XLR for headset with three way
audio mixer per output, 1x Tracker output.
Analog Audio
2x 3-pin XLR Inputs for AES,
Line or Mic input. Phantom Power available.
Computer Interface
1x USB-C connector.

Standards
HD Video Standards
720p50, 720p59.94, 720p60
1080p23.98, 1080p24, 1080p25, 1080p29.97, 1080p30, 1080p50, 1080p59.94, 1080p60
1080PsF23.98, 1080PsF24, 1080PsF25, 1080PsF29.97, 1080PsF30
1080i50, 1080i59.94, 1080i60
Ultra HD Video Standards
2160p23.98, 2160p24, 2160p25, 2160p29.97, 2160p30, 2160p60
SDI Compliance
SMPTE 259M, SMPTE 292M, 296M,
372M, 424M Level B, 425M.
Audio Sampling
Television standard sample rate of 48Khz, 24 bit A/D conversion.
Video Sampling
4:2:2
Color Precision
10-bit
Color Space
REC 709, REC 2020.
Multiple Rate Support
SDI switches between HD,
3G-SDI, 6G-SDI and 12G‑SDI.
Software
Software Included
Camera Utility for firmware update.
Operating Systems

Mac 10.11 El Capitan,
Mac 10.12 Sierra or later.

Windows 8.1 or Windows 10.

Physical Specifications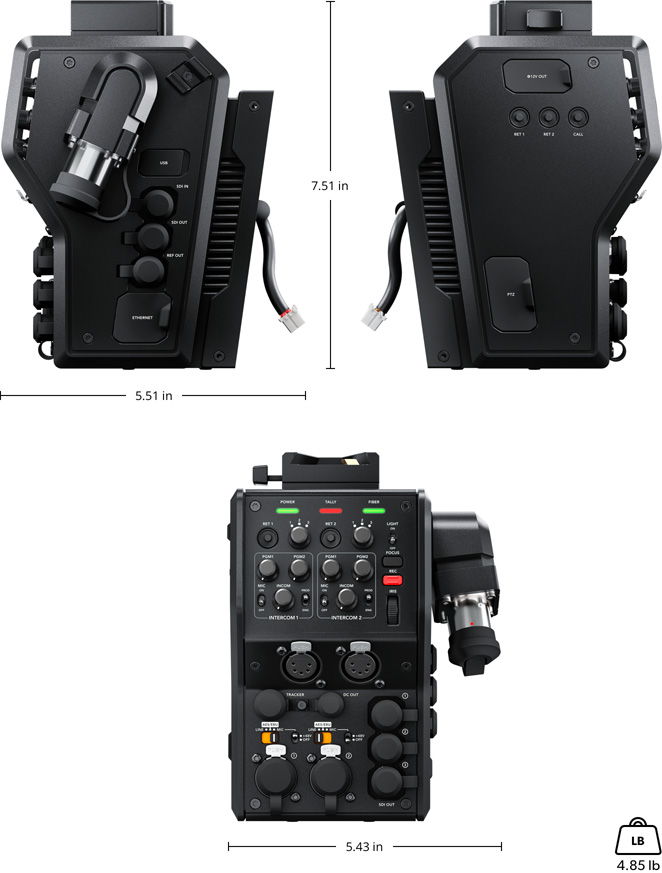 Environmental Specifications
Operating Temperature
0° to 40° C (32° to 104° F)
Storage Temperature
-20° to 45° C (-4° to 113° F)
Relative Humidity
0% to 90% non‑condensing
What's Included
Blackmagic Camera Fiber Converter
Mounting Bracket and screws for attaching to URSA Mini and URSA Broadcast cameras
3x Short 12G SDI cables for SDI In and Out connectiong to URSA Mini and URSA Broadcast
SD card with software and manual
Warranty
1 Year Limited Manufacturer's Warranty.