---
Blackmagic - Universal Videohub 288
Rack frame lets you add up to 72 BNC SDI or optical fiber SDI interfaces plus a single 72 x 72 or dual 288 x 288 crosspoint cards and up to two power cards. Add a single crosspoint for affordability, or add dual crosspoint and power cards for full redundancy. Includes removable fan tray and fans.
Universal Videohub 72 or 288
Universal Videohub 72 is a fully scalable 3 Gb/s SDI and deck control router. Add either regular copper SDI or optical fiber SDI interface cards as you need, up to a 72 x 72 SDI size router. The Universal Videohub 72 rack frame is only 5 RU and 6 inches deep and can support a single 72 x 72 crosspoint card and a single power supply card. The Universal Videohub 288 is the ultimate 3 Gb/s SDI and deck control router. With a choice of 72 x 72 or 288 x 288 crosspoint cards, the frame can be easily upgraded using hot swappable regular BNC SDI or optical fiber interface modules that also include full deck control. If you need redundancy then simply add a second crosspoint card for true 24/7 reliability! All inputs have auto standards detection and all outputs are re-clocked. Universal Videohub 288 features an 18 rack unit frame that is less than 6 inches deep. You also get ethernet and serial connectivity, third party control and redundant power supplies. Universal Videohub 288 lets you start small for an affordable cost and then expand its size and even add full redundancy as your needs grow!
Tech Specs
Connections
SDI Video Input
Up to 288 x SDI/HD-SDI, 3G-SD I and ASI. Can be BNC SDI or optical fiber SDI.
SDI Video Output
Up to 288 x SDI/HD-SDI, 3G-SDI and ASI with SDI re-clocking. Can be BNC SDI or optical fiber SDI.
Reference Signal
1 x Black Burst or Tri-level Sync input for all SD, HD and Optical connections.
Multi Rate Support
Auto detection of SD, HD or 3G-SDI. Simultaneous routing of 2K, HD, SD video and DVB-ASI.
Updates
USB 2.0 high speed (480Mb/s) interface.
Device Control
Up to 288 bidirectional Sony™ compatible RS-422 deck control ports via breakout cable.
Router Control
Use either RJ45 Ethernet, Smart Control or Master Control shared over IP network.
Router Configuration
RJ45 Ethernet for Videohub configuration and USB 2.0 for IP settings only.
ASI Support
Yes.
RS-422 Router Control
1 x input for controlling router crosspoint switching.
Reclocking
On all SDI outputs.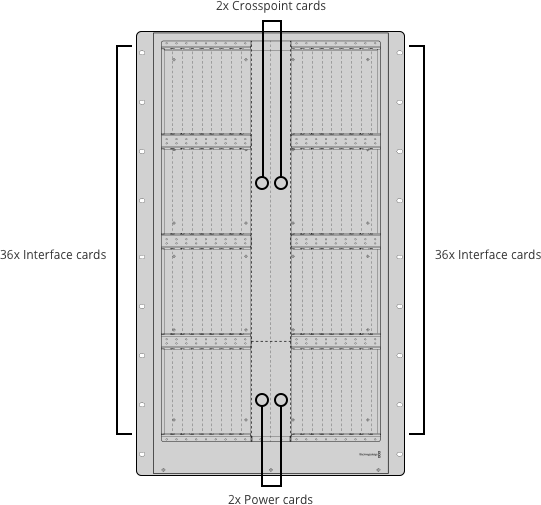 Standards
SD Format Support
525i29.97 NTSC, 625i25 PAL
HD Format Support
720p23.98, 720p24, 720p25, 720p29.97, 720p30, 720p50, 720p59.94, 720p60
1080p23.98, 1080p24, 1080p25, 1080p29.97, 1080p30, 1080p50, 1080p59.94, 1080p60
1080PsF23.98, 1080PsF24, 1080PsF25, 1080PsF29.97, 1080PsF30
1080i50, 1080i59.94, 1080i60
2K Format Support
2K DCI 23.98p, 2K DCI 24p, 2K DCI 25p
SDI Compliance
SMPTE 259M, SMPTE 292M, SMPTE 296M, SMPTE 310M, SMPTE 425M-A, SMPTE 425M-B, ITU-R BT.656 and ITU-R BT.601.
SDI Video Rates
SDI video connections are switchable between standard definition, high definition and 2K. SDI switches between 270 Mb/s standard definition SDI, 1.5G-SDI HD-SDI and 3G-SDI HD and 2K SDI.
SDI Video Sampling
4:2:2 and 4:4:4.
SDI Audio Sampling
Television standard sample rate of 48 kHz and 24 bit.
SDI Color Precision
4:2:2 and 4:4:4 10 bit.
SDI Color Space
YUV or RGB.
SDI Auto Switching
Automatically selects between SD-SDI, HD-SDI, 3G-SDI and DVB-ASI on each input so that each input can be running a different television standard.
SDI Metadata Support
Video payload identification ancillary data as per SMPTE 352M.
Software
Internal Software Upgrade
Via included firmware updater application.
Software Control
Router control included free for Windows™ and Mac™.
Operating Systems

Mac 10.10 Yosemite,
Mac 10.11 El Capitan or later.

Windows 8.1 or Windows 10.

Power Requirements
Power Supply
Redundant power supply options are available. GPI connector for connecting external alarms.
Power Fail Protection
Router connections preserved and restored instantly at power on independently of host computer.
Physical Specifications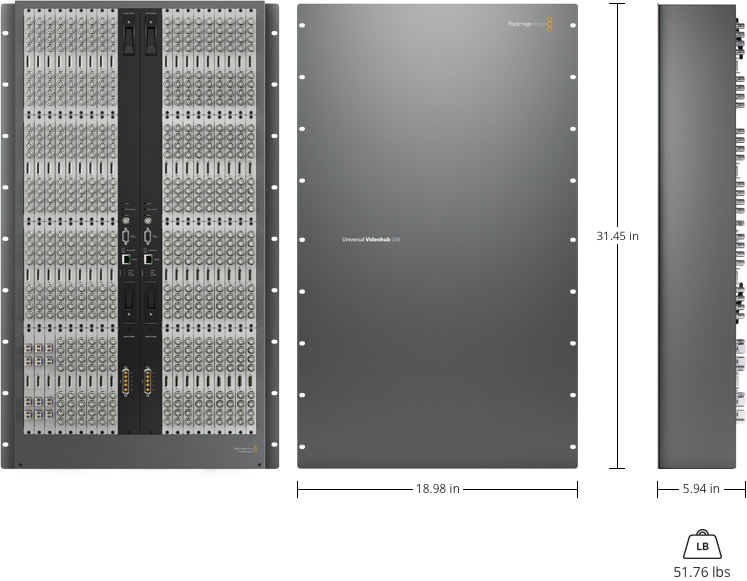 Physical Installation
18 rack unit size. Less than 6 inches deep.
Environmental Specifications
Operating temperature: 0° to 40° C
(32° to 104° F)
Storage temperature: -20° to 45° C
(-4° to 113° F)
Relative Humidity: 0% to 90% non‑condensing
What's Included
Universal Videohub 288
SD card with software and manual
Warranty
3 Year Limited Manufacturer's Warranty.