---
Blackmagic - Ultimatte Smart Remote 4
Now you can control control up to 8 different Ultimatte 12 units at the same time via ethernet. Smart Remote 4 features a 10.1 inch touchscreen for quickly navigating menus and adjusting settings, along with hard buttons with on line and on air indicators for quickly switching between units. The file clear button automatically adjusts the most important settings to instantly give you incredible composites!
One Touch Keying
Automatic scene analysis for incredibly fast keys!
When it comes to live production, you need to work fast. Ultimatte 12 features one touch keying technology that analyzes a scene and automatically sets over a 100 parameters so you get great keys without having to do a lot of extra work! The first step is to ensure your scene is well lit and that the cameras are properly white balanced, then you simply activate the auto key and Ultimatte will do all the work for you! One touch keying is dramatically faster and helps you accurately pull a key with minimum effort. That leaves your operators free to focus on the overall program with less distractions, while Ultimatte 12 takes care of the rest!
Tech Specs
Connections
Software Updates
2 x USB 2.0 and 1 x USB 3.0 for firmware updates.
SVGA Output
SVGA output allows for graphics to be viewed on an external VGA monitor.
Ethernet
2 x 10/100 Mbps Ethernet ports to connect to LAN networks for controlling Ultimatte 12.
RS-422
2 x for controlling Ultimatte 11.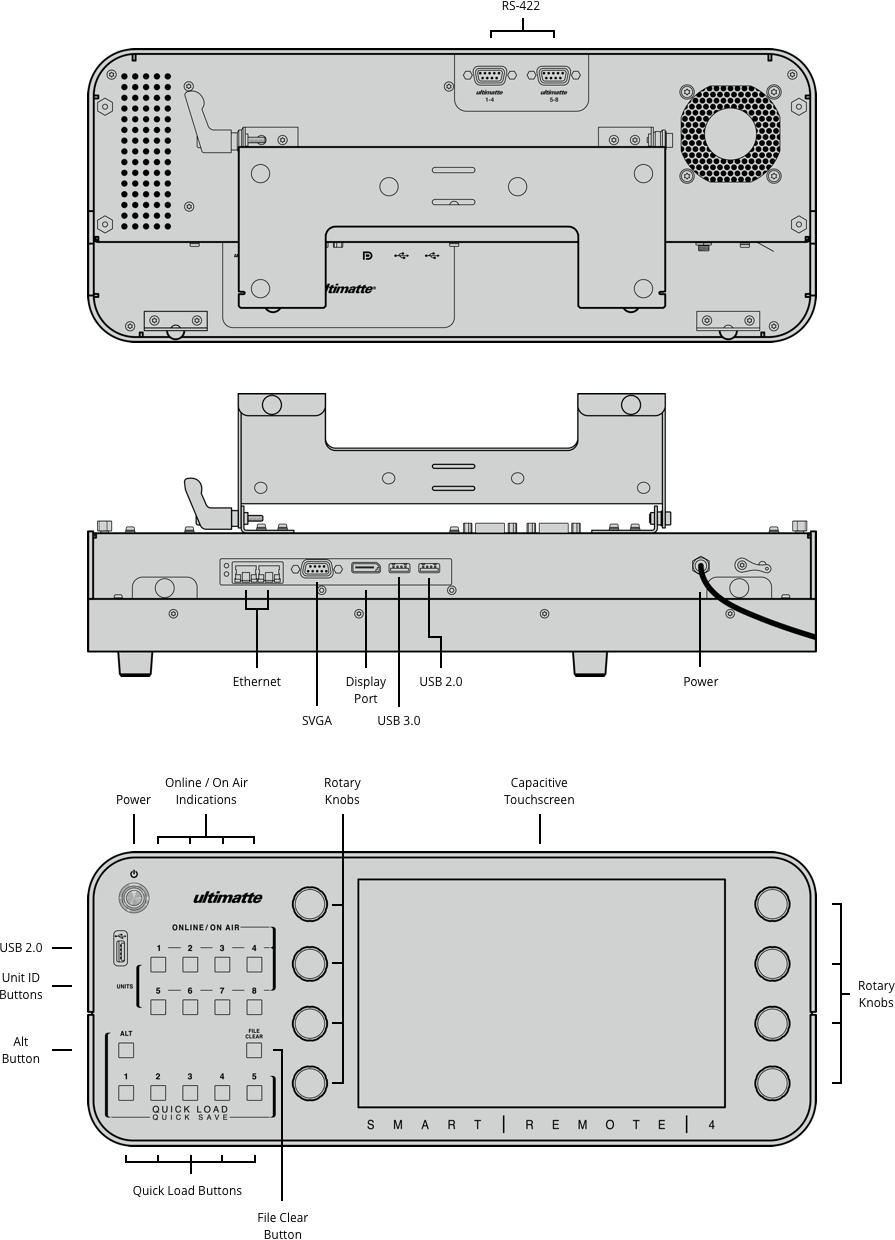 Product Specifics
Rotary Knobs
8 x rotary knobs for adjusting parameters.
Unit ID Buttons
8 x buttons. Illuminated blue for active.
Unit ID LED Indicators
Illuminated green for on line and red for on air.
Alt + Quick Load/Save Buttons
Alt button plus 5 buttons for saving files into volatile RAM.
Quick Load/Save Buttons
5 x buttons for loading files stored in volatile RAM.
File Clear Button
1 x button for One Touch Keying.
Alt + File Clear
Alt button plus file clear button for One Touch Keying using some user defined presets.
Customizable Menus
4 x menus for building your own menu with your most used controls.
LED Control
User adjustable brightness control for LEDs.
Fan Speed Control
User adjustable.
Software
Software Updates
Software updates via USB to load Smart Remote utility.
Control
Touchscreen
10.1 inch 1280 x 800 colour display panel. Integrated capacitive touchscreen with onscreen controls for settings and navigating menus.
Operating Systems

Windows 10, 64-bit.
Power Requirements
Power Supply
100 - 240V AC.
Power Usage
24W
Physical Installation
Adjustable desk mounting option.
Physical Specifications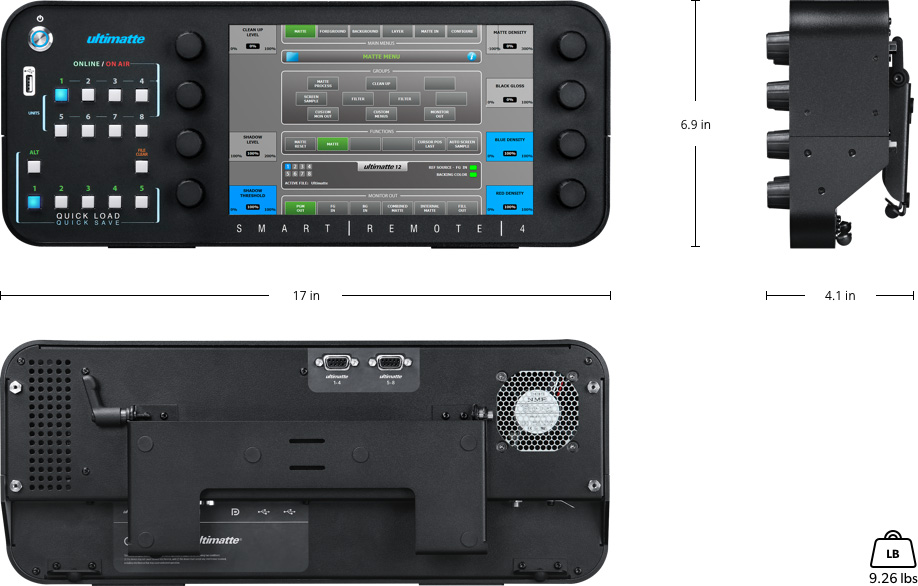 Environmental Specifications
Operating Temperature
0° to 35°C (32° to 95°F)
Storage Temperature
-20° to 60° C (-4° to 140° F)
Relative Humidity
0% to 90% non-condensing.
What's Included
Ultimatte Smart Remote 4
SD card contains software and manual
Rack mount ears
Warranty
12 Month Limited Manufacturer's Warranty.