---
Blackmagic Ultimatte 12
Blackmagic Ultimatte 12 is an advanced real time compositing processor designed for keying live action video with next generation broadcast graphics, virtual sets and more. Ultimatte 12 features new algorithms and color science, incredible edge handling and color separation, amazing color fidelity, and better spill suppression than ever before. The high performance 12G-SDI design gives you the power to work in Ultra HD and HD with sub pixel processing for amazing image
Live Broadcast,
 Television and Film Production
Add augmented reality and virtual environments to any broadcast!
Whether you're working in broadcast news, sports, traditional television and film production, or even magazine style entertainment programming, Ultimatte 12 has the quality for incredibly life-like composites that place your talent into any scene! Ultimatte 12 can work with both fixed cameras and static backgrounds, or automated virtual set systems. You can also use Ultimatte 12 to layer computer generated augmented reality objects into a scene, complete with realistic transparency that your talent can walk behind! Ultimatte 12 is also perfect for on set pre visualization in television and film production because it lets actors and directors see the virtual sets while they're shooting against a green screen.
Broadcast Quality Keyer
Add an Ultimatte 12 to every camera for the highest quality keys!When you're working live and have multiple cameras shooting from different angles, it's common for the green or blue screen to suffer from variations. The keyers built into live production switchers use the same keying parameters for all cameras, which complicates keying and image quality because each camera sees the green screen a little differently. Ultimatte 12 eliminates these problems with incredible new technology at an affordable price so it's now possible to add keyers to every camera. That ensures you always get the best possible key! With the power of a dedicated keyer on every camera, Ultimatte 12 is perfect for live broadcast news, weather, sports, virtual studios and more!
Realistic Augmented Reality
Incredible new realistic layer mode for compositing colored "glass look" objects!
Adding translucent objects, such as colored or tinted glass and computer graphics, is virtually impossible with a traditional keyer. That's because you can't subtract a blue or green screen out of a semi-transparent colored object without changing the object's original color. Now, with Ultimatte 12, you get a revolutionary new "realistic" layer compositing mode that lets you add tinted objects on top of the foreground image for a whole new generation of realistic translucent glass look broadcast graphics. This means that when you look through the object, or your talent walks behind it, the tinted colors are accurately preserved, making the shot look completely realistic.
Incredible Color Fidelity
Faithfully reproduce bright colors that were impossible before!
With Ultimatte 12, you get new advanced flare, edge and transition processing so you can remove the background, without affecting the colors you want to keep! What this means is you'll be able to retain and faithfully reproduce colors that are impossible on other keyers, such as a bright yellow dress in front of a green screen! Ultimatte 12 is smart enough to isolate and treat different parts of the image separately, while also keeping the color transitions between areas smooth. You get the highest quality compositing, so the final output looks photorealistic. Unlike other keyers, Ultimatte 12 delivers crisp clear images with vibrant colors that pop!
Shadows and Transparency
Key and composite images with shadows and transparency!
The improved flare algorithms in Ultimatte 12 can remove green tinting and spill from anything, which is one of the reasons why Ultimatte 12 creates true, realistic looking virtual environments! That also means you don't have to worry about shadows or transparent objects with reflections. Ultimatte 12 automatically samples the colors, creates seamless mattes for walls, floors and other parts of the image, and then applies the necessary corrections. Shadows are properly mapped and composited onto the new background, spill is removed, and transparent objects are handled with perfection!
Highest Quality Connections
Connect to SDI equipment in HD and Ultra HD!
Dedicated Compositing Inputs
Ultimatte 12 features 7 different input connections with loop outputs that are used to composite different elements together. These include foreground and background, along with holdout and garbage mattes, as well as additional layer inputs for superimposing additional images over the composited image. Ultimatte 12 even lets you use sources that are not synchronized when working with static shots!
Advanced 12G-SDI
Designed for Ultra HD and
 compatible with everything!
The advanced 12G-SDI connections on Ultimatte 12 go far beyond those found on other keyers. Only 12G-SDI gives you high frame rate Ultra HD via a single BNC connection that also plugs into all of your regular HD equipment! That means Ultimatte 12 is compatible with virtually all SD, HD, 3G, 6G and 12G-SDI equipment, and supports all HD and Ultra HD formats up to 2160p60! You can use Ultimatte 12 with your HD cameras today and switch to Ultra HD when you're ready!
Tech Specs
Connections
SDI Video Inputs
7, plus monitor in
SDI Video Outputs
9
SDI Video Loop
7 x reclocked SD, HD, Ultra HD for corresponding inputs.
SDI Rates
270Mb, 1.5G, 3G, 6G, 12G multi rate support
Reference Input
Tri-Sync or Black Burst
Reference Loop Output
Tri-Sync or Black Burst
Control Panel Connection
Ethernet supports 10/100Mbps. Allows direct connection between Ultimatte 12 and Ultimatte Smart Remote 4.
GPIO
5 x GPI In; 1 x GPI Out; 1 x Tally In.

Standards
SD Video Standards
625i50 PAL, 525i59.94 NTSC
HD Video Standards
720p50, 720p59.94, 720p60
1080p23.98, 1080p24, 1080p25, 1080p29.97, 1080p30, 1080p50,1080p59.94, 1080p60
1080PsF23.98, 1080PsF24, 1080PsF25, 1080PsF29.97, 1080PsF30
1080i50, 1080i59.94, 1080i60
Ultra HD Video Standards
2160p23.98, 2160p24, 2160p25, 2160p29.97, 2160p30, 2160p50, 2160p59.94, 2160p60
SDI Compliance
SMPTE 259, SMPTE 292, SMPTE 424, SMPTE 2081, SMPTE 2082
Video Sampling
4:2:2
Color Precision
10-bit
Color Space
REC 601, REC 709, REC 2020
Software
Software Updates
Using USB-C connection directly connected to Mac™or Windows™ computers.
Configuration
Ultimatte IP address is set via the Ultimatte setup utility connected via USB.
Control System
Control Panel Required
Ultimatte Smart Remote 4
Power Requirements
Power Supply
2 x Internal 100-240V AC, 50/60Hz
Power Usage
100W
Physical Installation
1 Rack Unit Size
Physical Specifications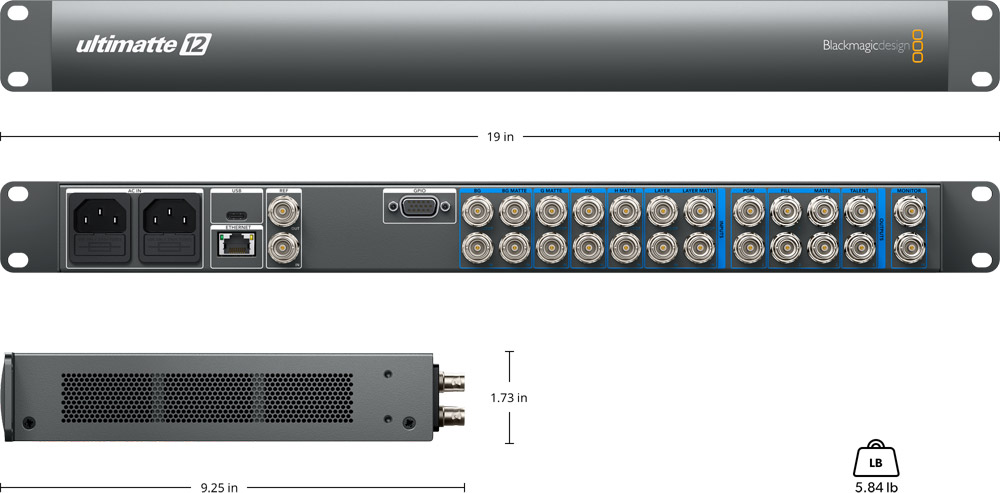 Environmental Specifications
Operating Temperature
0° to 40°C (32° to 104°F)
Storage Temperature
-20° to 60°C (-4° to 140°F)
Relative Humidity
0% to 90% non-condensing.
What's Included
Ultimatte 12 processor
SD card contains software and manual
Warranty
12 Month Limited Manufacturer's Warranty.