---
Axel Tech - YouPlay Broadcast
AXEL TECH YOUPLAY BROADCAST is the smartest video player for your television production environment.
YouPlay Broadcast software license. TV Player 1 channel SD/HD. Smart video player for live production. Playout of multiformat video files (Dv, HDV, Mpeg-2, DVD, DIVX, Mpeg-4, Mpeg-1, H.264, WMV, QuickTime and others). Playlist creation, playback function, video auto import.

The Axel Tech YouPlay BROADCAST version has none of these limitations as the FREE or PRO versions, while the BROADCAST version adds exciting features.

New tapeless workflow finds in YOUPLAY the cleverest way to playout video during live production: from on-air video contributions for news, talk shows, events coverage.

YOUPLAY is the ideal assistant to send media to your video mixer or to fill background screens and videowalls, featuring also loop of clips or playlists and play/stop from a still frame.

Thanks to Axel's experience in broadcast automation, YOUPLAY has been designed to be a real multiple-formats player with a user-friendly interface that fits perfectly into your live production with no need of training or skilled operators.

COMPLETE & SCALABLE MULTIFORMAT SOLUTION

YOUPLAY works with Windows 7 and Windows 8, and is compatible with any Blackmagic card, including multichannel (You'Play Broadcast version), usb and thunderbolt models.
YOUPLAY features "multi-format and multi-codec compatibility" and provides full video controls during production contributions with seamless switching between clips.
With an easy configuration you can set the output in 4K/2K/HD/SD with auto up/down scale of the video files with no renders or transcoding, giving the editors the possibility to export from different NLE and directly go on-air.
YouPlay Workflow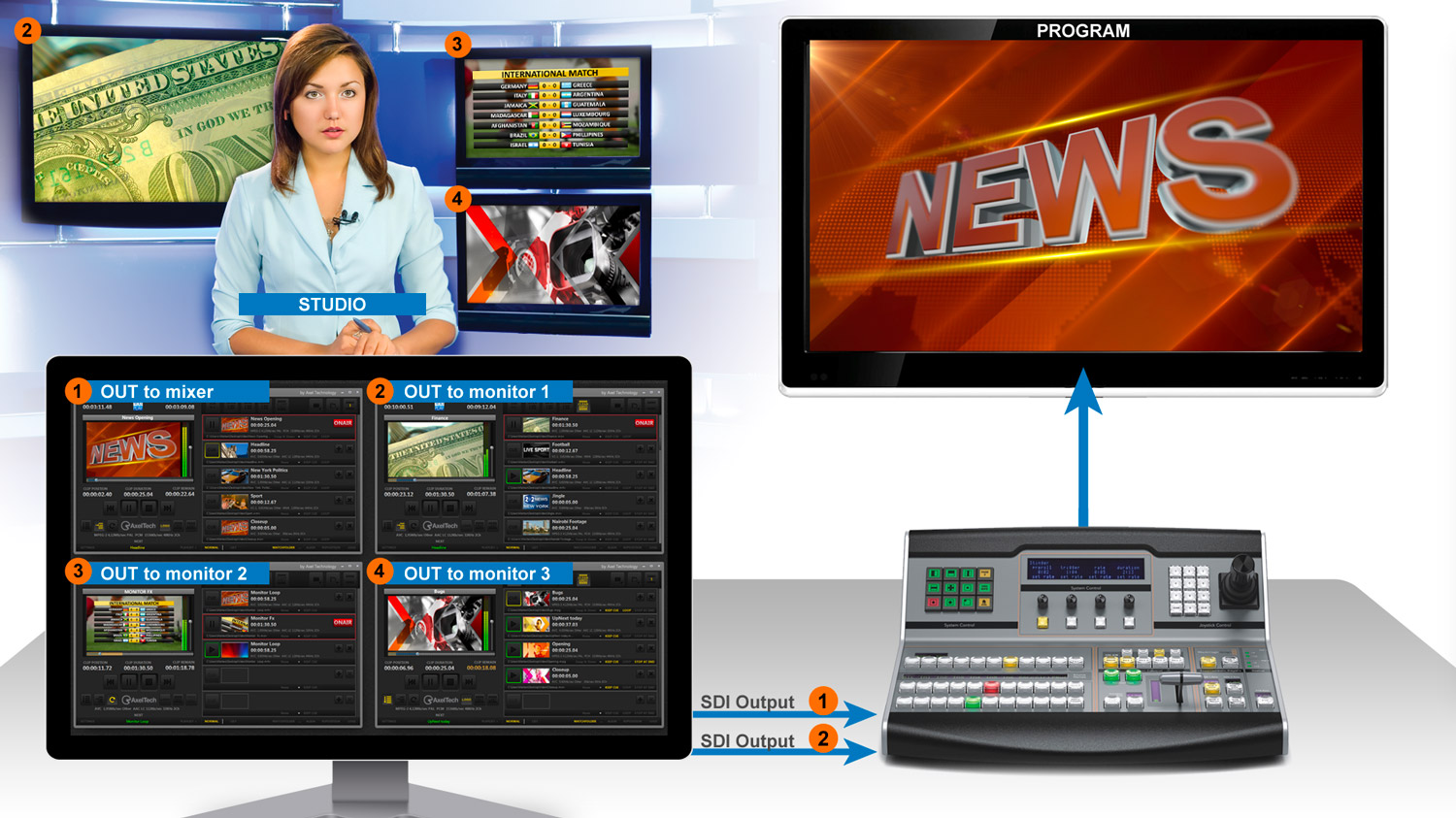 Broadcast version features:
All features included in PRO version
Up to 4 channels on a single PC
Mark in/ out for clip trimming
Slow motion controls
Timed CG with animations, tickers, crawls and rolls
Atem TCP control on play and stop and Gpi triggers
Shuttle PRO USB integration
Main Features
SDI/NDI/IP 4K/2K/HD/SD playout & ingest (YOUPLAY SERVER model)
Virtually any video and file format compatibility (SD/HD/2K/4K): up to 16 Audio channels
(Dynamic selection of enabled audio channels)
Automatic up/down scaling and aspect ratio adjustment (16/9, 4/3, etc.)
Hardware Compatibility: BMD (SDI), AJA (SDI, SMPTE 2022 & SMPTE 2110), BlueFish (SDI,
SMPTE 2022 & SMPTE 2110)
Key output on SDI with 32 bits Bitmaps sequence, QuickTime Animation and ProRes 4:4:4
Timecode RP188-VITC-LTC
Crop, field swap, aspect correction mode (Letterbox, no Letterbox, stretch)
Free CGComposer app for CG template creation
Timed CG on playlist with dynamic text metadata.
Frame accurate single clip loops.
Slow-motion up to -2x/+2x
Play while ingest
Remote control with BMD ATEM, NEWTEK TRICASTER, BMD HYPERDECK emulation,
VDCP mixer, RS422 controller
MOS integrations for NEWSROOM with multiple channel gateway


Get a FREE version of the YouPlay FREE - send us an e-mail at Sales Contact! sales@broadcaststoreeurope.com