---
Quicklink ST55 Studio Transceiver
Unlimited users, portal usage, relay data and standard support for the first purchased studio hardware (first 6 months free)
Broadcast global contributions to air in less than 30 seconds.
No apps nor software installs required.
Unlimited audio/video or audio only contribution links from a web browser, delivered quickly and easily back to the central studio. Contributors can be invited via SMS or email and can send content to the studio remotely and easily using any device where a simple Chrome/Safari browser can be opened, no software downloads are necessary.
Cloud advanced firewall punch-through with automatic fallback to Quicklink Relay Services guarantees connectivity on the most challenging and secured networks.
Product highlights
Scheduled or ad hoc instant HD contributions
No software or apps required
Instant SMS or email invitations
Simple to use with zero learning curve
Single click to air with no user login credentials required
Only mobile or desktop browser required
Single one-time URL with timed validity
Rate adaptive for unstable networks
End-to-end encrypted AV streams
Inbuilt echo cancellation means that no earphones are required
Central management of camera switching and bandwidth
Unlimited global usage and guest invitations
Supports 1 to 10,000 concurrent users
Contribute directly from your iOS device using the Studio App
Professional Mobile Journalism (MOJO) app
Central management of HD recording, resolution, camera switching and bandwidth
Live, record or simultaneous live and record
Preview your local recording before upload to cloud or onsite storage
Gridlines to quickly guide the composition or line up the subject
Turn on/off flash light
Zoom camera in/out
Touch point for spot or permanent focus
Image stabilisation whilst recording
Switch between local or studio preview
Workflow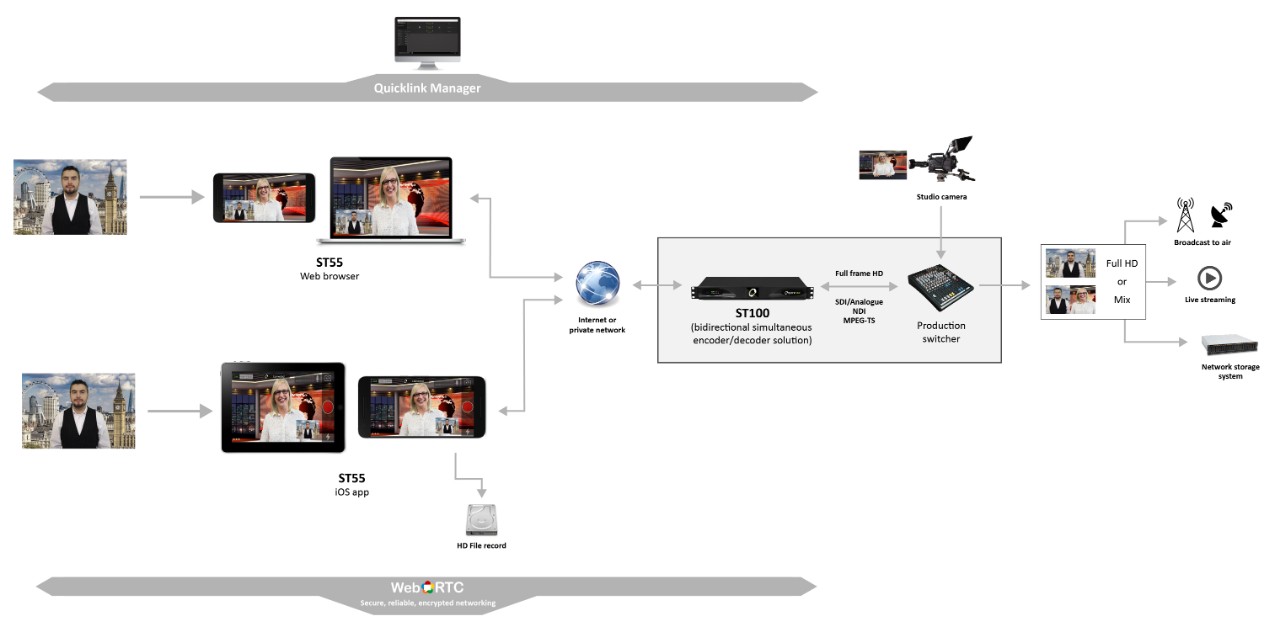 The Quicklink Manager
The Quicklink Manager allows simple and intuitive management of links and contributors from one central portal, from any global location, using a secure Chrome web browser. Various layers of operational security including two factor authentication and end to end encryption ensure the highest levels of data security and integrity. Feature and settings selection together with link creation are amongst the main abilities of the Quicklink Manager Portal.
Available 365×24/7
Create virtual waiting rooms for contribution links
Global usage
Control of access permission rights to portal Managers, Operators and Users
Send guest invites for ad hoc users
Full control of contributors and feature/settings selection
Automatic conversion of different incoming and output formats such as NTSC converted to PAL output
Option to customise with own branding